Looking for a new dark and bloody murder mystery with fantasy aspects? Check out Spectacle!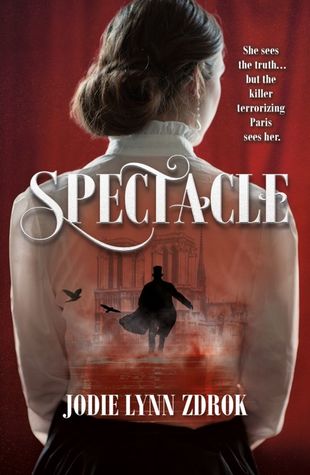 Title
:
Spectacle
Author
:
Jodie Lynn Zdrok
Age
:
Young Adult
Genres
:
Historical Fiction, Mystery, Fantasy
Publication Date
:
February 12, 2019
Publisher
:
Tor Teen
Source
: Hardcover
Purchase

: Hardcover | Kindle | Audible | B&N
Synopsis
:
A YA murder mystery in which a young reporter must use her supernatural visions to help track down a killer targeting the young women of Paris.

Paris, 1887.

Sixteen-year-old Nathalie Baudin writes the daily morgue column for Le Petit Journal. Her job is to summarize each day's new arrivals, a task she finds both fascinating and routine. That is, until the day she has a vision of the newest body, a young woman, being murdered--from the perspective of the murderer himself.

When the body of another woman is retrieved from the Seine days later, Paris begins to buzz with rumors that this victim may not be the last. Nathalie's search for answers sends her down a long, twisty road involving her mentally ill aunt, a brilliant but deluded scientist, and eventually into the Parisian Catacombs. As the killer continues to haunt the streets of Paris, it becomes clear that Nathalie's strange new ability may make her the only one who can discover the killer's identity--and she'll have to do it before she becomes a target herself.
My Rating
:
My Thoughts
:
This was a tough read for me. I enjoyed the writing style and premise of the story, but I just couldn't connect with the characters. I adored the writing so much! The imagery, descriptions and details really helped to bring me into the story and "experience" an old Paris. Jodie does her writing really well and keeps you captivated. I did enjoy the dark and gruesome aspects of the story.
For me the whole plot was good. I enjoyed the idea of a murder mystery with fantasy aspects. The murder mystery had me on the edge of my set. It was interesting seeing the mind of the killer. I loved the fantasy aspect with magical abilities being involved. I would have loved to know more about those abilities and would have loved to see more people using their powers.
Nathalie is a sixteen year-old journalist. She writes the daily morgue column so that requires her to visit the morgue quiet often. One day she visits the morgue and her ability is awakened. She has the power to see a murder happen through the eyes of the killer. I must say I had a love hate relationship with her. She was a bit whinny but at the same over the top in a good way. I wish she would have used her powers a bit more.
Christophe was a liaison between the police and the morgue. I enjoyed him and how helpful he was to Nathalie. Simone was a great friend! Poor Agnes was amazing, she didn't deserve what happened to her. Nathalie's family had too many secrets. Her mother PISSED me off with how stubborn she was. I feel like her family should have told them of their pasts -- it could have helped her. Nathalie boss was freaking strange, but finding out who he really was made me excited.
The Dark Artist was such a sick man. I wanted to know much more about him and his obsession. I wish that was a bit more expounded on.
Overall, I enjoyed the book enough, but because I couldn't connect with the characters I could only give it a 3 star rating. I do recommend nonetheless it because the plot is really good.
About the Author
:
Jodie Lynn Zdrok holds two MAs in European History (Providence College, Brown University) and an MBA (Clark University). In addition to being an author, she's a marketing professional, a freelancer, and an unapologetic Boston sports fan. She enjoys traveling, being a foodie, doing sprint triathlons, and enabling cats. She is represented by Ginger Clark of Curtis Brown, Ltd.
- Giveaway is open to International
- Must be 13+ to Enter
- 5 Winners will receive a Copy of SPECTACLE by Jodie Lynn Zdrok
This tour is hosted by Jean Book Nerd