Book Review | Daughter of the Pirate King by Tricia Levenseller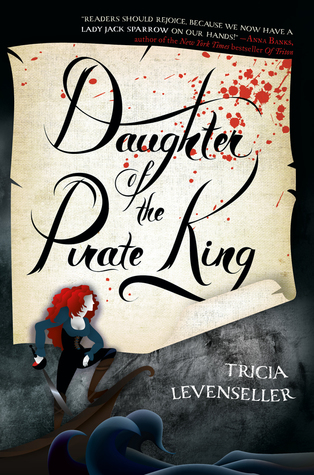 Title
:
Daughter of the Pirate King
Author
:
Tricia Levenseller
Series
:
Daughter of the Pirate King #1
Age
:
Young Adult
Genres
:
Fantasy
Publication Date
:
February 28, 2017
Publisher
:
Feiwel & Friends
Source
: eBook
Purchase

: Amazon | B&N | Kobo | Play Store | iBooks
Synopsis
:
If you want something done right....



When the ruthless Pirate King learns of a legendary treasure map hidden on an enemy ship, his daughter, Alosa, knows that there's only one pirate for the job—herself. Leaving behind her beloved ship and crew, Alosa deliberately facilitates her own kidnapping to ensure her passage on the enemy ship. After all, who's going to suspect a seventeen-year-old girl locked in a cell?





Then she meets the (surprisingly perceptive and unfairly attractive) first mate, Riden, who is charged with finding out all her secrets. Now it's down to a battle of wits and will... Can Alosa find the map and escape before Riden figures out her plan?





Debut author Tricia Levenseller blends action, adventure, romance, and a little bit of magic into a thrilling YA pirate tale.
My Rating
:
My Thoughts
:
This book was absolutely fantastic!!!! I loved it from start to finish. The characters were all amazing, the action was superb and even the romance intrigued me. Highly suggest this!
Princess Alosa is a kickass female protagonist! She was absolutely stunning from start to finish. She knew how to handle herself, being a pirate herself. She could fight, be sassy, be seductive -- I mean she had me laughing throughout the whole book. This girl is freaking brilliant. She really takes into account all the details and her surroundings before doing something. I love her! The way she grew up was hard, but it turned her into a phenomenal young lady -- not to mention the identity of her mother -- that was a shocker. I just love her and not to mention her badass female crew --- LOVE!
Riden was a stunning male character for me. I loved how charming he was, but how quick he could change into a "serious" pirate. I loved seeing him grow attached to Alosa and hearing about his own life. His father sucked, but I loved how despite the hardships he never became a cruel man like his brother. Riden was full of compassion, had a pure heart and tried to balance his loyalty and allegiance to his brother while falling for Alosa. I just loved him from start to finish.
The romance between Alosa and Riden was amazing. They started off as enemies, but the more time they spent together the more they grew to like one another. I loved their few stolen moments together and how they tried to acknowledge their feelings for one another while not truly acknowleding them. I love them together because they balance one another out. I need more of them together!!!
Draxen is a interesting character. I don't know if he's just vile or if it's the circumstances of his life, but I hated how he treated Alosa. He pissed me off. I definitely can't stand him and I'm glad he ended up in the brig, but I'm interested in seeing more of him. I did like most of his crew members such as Kearan and Enwen. I hated Ulgin and Sheck with a passion.
The Pirate King Kalligan, Alosa's dad, is a vile man. I can't stand how he raised her. I don't know if I like him or not. Too soon to give a full opinion, but he definitely has a lot of asshole moments for a father. Vordan is a very sneaky, cunning man!!! I never thought he would do what he did. That was brilliant at the same cowardly. I need to know more about him!!!
That ending left me wanting more!!! I need the sequel at this very moment!!!!