Book Review | Labyrinth Lost by Zoraida Córdova (Plus Giveaway)
Today's post is a review, spotlight and giveaway for the recently released YA debut novel by Zoraida Cordova. I am a huge fan of her New Adult Contemporary Romance novels, so reading her YA novel was a given.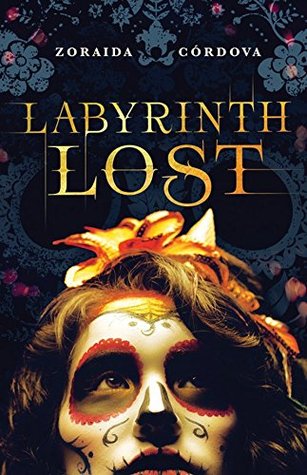 Title
:
Labyrinth Lost
Author
:
Zoraida Córdova
Series
:
Brooklyn Brujas #1
Age
:
Young Adult
Genres
:
Fantasy, Paranormal
Publication Date
:
September 6, 2016
Publisher
:
Sourcebooks Fire
Source
: eARC via NetGalley
Purchase

: Amazon | B&N | Kobo | Play Store | iBooks
Get the
Coloring Page
!!!
Synopsis
:
Nothing says Happy Birthday like summoning the spirits of your dead relatives.



I fall to my knees. Shattered glass, melted candles and the outline of scorched feathers are all that surround me. Every single person who was in my house – my entire family — is gone.



Alex is a bruja, the most powerful witch in a generation…and she hates magic. At her Deathday celebration, Alex performs a spell to rid herself of her power. But it backfires. Her whole family vanishes into thin air, leaving her alone with Nova, a brujo boy she can't trust. A boy whose intentions are as dark as the strange markings on his skin.





The only way to get her family back is to travel with Nova to Los Lagos, a land in-between, as dark as Limbo and as strange as Wonderland…



Beautiful Creatures

meets

Daughter of Smoke and Bone

with an infusion of Latin American tradition in this highly original fantasy adventure.
My Rating
:
Trailer
My Thoughts
This was a pretty great read for me. I absolutely loved the writing and how it all flowed beautifully. The world was beautiful. The characters were all unique and the romance was pretty great too. I love Zoraida Cordova's New Adult novels so reading her YA novel and enjoying it was just a given for me.
Alex is an extremely smart girl but the one thing she always wanted was to be a normal girl and not bruja. Her sisters and mother think she hasn't come into her magic yet, but she has kept her magic as secret as long as she could until she attacked a boy at school and got attacked at home. They day of her deathday she recited a canto to give her magic back, but she ended up losing her whole family and having to jump into the world of Los Lagos to save them.
I loved Alex as a character because as much as she hated having her magic she did all that she could to save her family. I loved her sarcastic attitude and how she pushed through her fears to do the right thing. Finding out exactly what she was magically and how powerful she was blew my mind. She may have been afraid and hated her magic, but when put to the test she pulled through and turned out to be stronger than anyone could imagine.
Nova is a brujo, but unlike other brujas/brujos he didn't have a great upbringing and his magic could be the death of him. I loved Nova throughout the strong even when he screwed up and betrayed Alex. Nova was a very nonchalant kind of guy and could use his charms a ton, but underneath his facade he was definitely lonely. Using his magic caused him to have marks on his body and could lead to his death -- the reason behind that is simply insane. Nova is a great character in my eyes. Loved him.
The Devourer, Xara, is crazy witch. She seeks power anyway she can get it, but even with the power she steals she still can't survive. I didn't care for her at all. She was coldhearted, cocky, evil, twisted, manipulative and downright delusional. She played her part perfectly -- but I'm glad she met her demise.
Alex's family is amazing. Even though they were all shocked and hurt by her canto they still loved and supported her in the end. They all had her back -- even when faced with death. They were all amazing especially her aunt, mother and sisters. Rishi was cute. She was an awesome best-friend, but finding out why she was always so close to Alex kind of surprised me in a good way. Totally want to more of her in the sequel.
The romance was amazing because it didn't really show until the last few chapters which I appreciated. This was strictly fantasy base with hints of romance. Nothing heavy. However, I also love that Alex fell for both Nova (
she won't admit to that
) and Rishi. I don't really read many novels with diverse sexual preferences to them so this was beautiful in opening my eyes up to other books.
I'm definitely excited for the sequel to see what's in store for Alex and if she will work things out with Nova. As much as I like her and Rishi together, I'm still rooting for Nova because their connection is just amazing.
Giveaway
2 Copies of Labyrinth Lost with Signed Labyrinth Lost Bookmarks
Run Sept 6th - 19th
US and Canada Only
About the Author
Zoraida Córdova was born in Ecuador and raised in Queens, New York. She is the author of the Vicious Deep trilogy, the On the Verge series, and the Brooklyn Brujas series. She loves black coffee, snark, and still believes in magic. Send her a tweet @Zlikeinzorro

or visit her at zoraidacordova.com

.