Book Review | Back to You by Chontelle Brison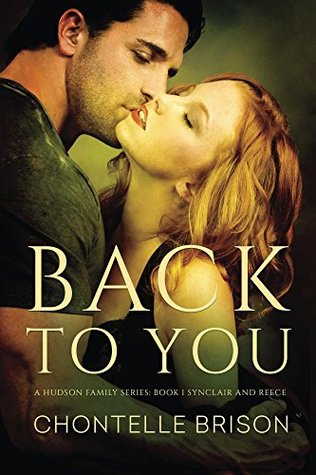 Title
:
Back to You
Author
:
Chontelle Brison
Series
:
Hudson Family #1
Age
:
Adult
Genres
:
Erotic Romance, Contemporary Romance
Publication Date
:
February 22, 2016
Publisher
:
n/a
Source
: Review via Kindle Unlimited
Purchase

: Amazon | B&N
Synopsis
:
Synclair Patrick is having a crap week. A drug dealer burned down her bar and her apartment above it, a gigolo tried to rob her and to top it all off, she gets panicked text messages from her barmaid, begging for her to save her. So ending up in Carson City, Nevada- in the hands of the man that broke her heart fifteen years ago is enough to make this Vegas chick start swinging.

Reece Hudson has his hands full. With a successful Veterinarian practice, an ex-wife that won't go away, three brothers who always seem to be into something and a baby sister who still believes in fairytales, Reese is shocked when the woman he loved fifteen years ago falls into his arms, Literally! He never got over Synclair and now that he has her in his arms, he's not letting go. But Synclair wants nothing to do with him. He knows Synclair feels the chemistry between them. It will take every dirty Hudson trick in the book, a little blackmail and his whole family getting involved, but Hudsons never give up on one of their own and Synclair is a Hudson, she just doesn't know it yet.
My Rating
:
My Thoughts
:
This was absolutely outstanding! I'm giving this a 4.5 star rating because this was just written too quickly for me. I read this in a matter of 2 hours and I'm still reeling for more of Synclair and Reece's story. Chontelle Brison is brilliant in her writing. There were minor errors every now and then, but overall this was an amazing story.
Synclair was an outstanding character. She had a tough upbringing since her mother was a drug addict. People made fun her, she never knew what family was and hardly ever a place to sleep, but through it all she pushed through. She is strong, smart, bad-ass and knows how to handle herself. Syn was strong in keeping her restraint when she could against Reece. I'm glad she was able to experience life with a better view. Amazing.
Reece was phenomenal. He was the typical kind of douchebag until he met Synclair, fell in love and then broke her heart. Fifteen years later, he has the chance to make things right and he definitely works hard to do so. Reece is smart, fit, knows how to please a woman and knows that he is and will forever be in love with Synclair. Reece is funny and he loves deeply. Awesome guy.
The romance was just too beautiful. I love that they have reunited after fifteen years and were able to "pick up" where they left off. I love how real their love was for one another. Their may have been a major hiccup in their relationship back in college, but when a second chance is thrown at them they take it. Reece and Syn were made for one another. He gave her love, family and a home. She gave him true, unconditional love. That ending was just too perfect!
Uncle Jack was amazing. I loved how he played the father figure role for Syn from start to finish. I truly love him. The Hudson family was absolutely amazing. Rachel is sweet and kind. I also love Dalton, Matt and Lucas -- they were funny, outgoing and loving. I am truly excited to read about their romances in
Baby Mine
(
book 2
),
Lucky Charms
(
book 3
) and
No Refunds, No Exchange
(
book 4
).
Amazing contemporary romance and I highly recommend it!