Book Review | The Heartless City by Andrea Berthot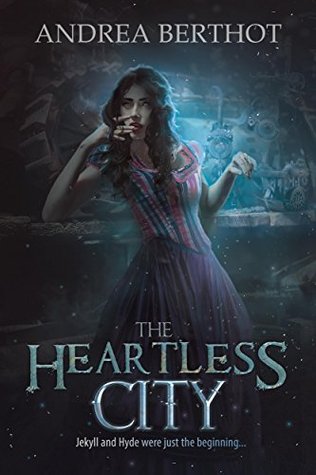 Title
:
The Heartless City
Author
: Andrea Berthot
Series
:
The Gold and Gaslight Chronicles #1
Age
:
Young Adult
Genres
:
Fantasy, Fairytale Retelling
Publication Date
:
August 17th, 2015
Publisher
:
Curiosity Quills Press
Source
: NetGalley
Purchase

: Amazon | B&N
Synopsis
:
Henry Jekyll was a brilliant doctor, a passionate idealist who aimed to free mankind of selfishness and vice. He's also the man who carelessly created a race of monsters.

Once shared secretly among the good doctor's inner circle, the Hyde drug was smuggled into mass-production - but in pill form, it corrupted its users at the genetic level, leaving them liable to transform without warning. A quarter of the population are now clandestine killers - ticking bombs that could detonate at any given moment.

It's 1903, and London has been quarantined for thirteen years.

Son of the city's most prominent physician and cure-seeker, seventeen-year-old Elliot Morrissey has had his own devastating brush with science, downing a potion meant to remove his human weaknesses and strengthen him against the Hydes - and finding instead he's become an empath, leveled by the emotions of a dying city.

He finds an unlikely ally in Iris Faye, a waitress at one of the city's rowdier music halls, whose emotions nearly blind him; her fearlessness is a beacon in a city rife with terror. Iris, however, is more than what she seems, and reveals a mission to bring down the establishment that has crippled the people of London.

Together, they aim to discover who's really pulling the strings in Jekyll's wake, and why citizens are waking up in the street infected, with no memory of ever having taken the Hyde drug…

Heart-eating monsters, it turns out, are not the greatest evil they must face.
My Rating
:
Quote(s) I Like
:
"
...as if it restored the power he had taken from her that night, when those hands -- suddenly smooth, strong and ethereally pale -- had ripped the seams of her lab coat and severed the fabric of her life.
" -
Virginia
"
You know, you know what I'm feeling. And you know what I want. If You know what I want, and you feel the same way, then...why don't you do it?
" - Iris
"Yes I know. Knowing what you want isn't the same as having permission." - Elliot
My Thoughts
:
First off, STUNNING cover. I absolutely fell in love with the cover before reading the description. It is truly a work of art. This is such a unique take on Dr Jekyll and Mr. Hyde. I actually enjoyed this novel thoroughly.
The prologue, which takes place in 1890, gave me so much background and a lot of details that I thought was absolutely helpful while reading this book. Simply outstanding writing and I'd definitely read more from Andrea Berthot!
Virginia is a strong woman. After being raped by a man she admired, seeing him work on a horrible drug, being shunned from her hometown in Atwood, Kansas and having a daughter by the man that raped her -- she still held her head high. Yes, she definitely had wounds, some open and many healing, but she pushed through the best she can which I admired about her. Even throughout the story I loved her hard-work to find a cure for the Hydes.
Lady Mary Cullum is a strong woman. In a time when woman were looked at as inferior she carried herself with such grace and royalty. I enjoyed her even through her death because everyone spoke so highly of her. Dr. Henry Jekyll seemed like a man that wanted to do good, but after his first taste of bad he became twisted and fell into the trap of evil.
Iris was the kickass heroine that everyone loves and adores in a story. She was headstrong, strong willed and determined to right the wrongs in London. I loved how brave she was. Even when she found out who her dad was she didn't freak out. Iris is such a sweet girl. I totally enjoyed her character.
Elliot was the guy that every one adores and hopes gets the girl. At first he seemed shy, but once he began to embrace his powers he was the perfect guy! I loved him when he felt ashamed and overwhelmed. I loved him when he opened up to Iris and connected with her. I hated how his father treated him. He definitely was a debby downer, but once he met Iris, his life changed for the better.
The romance between Iris and Elliot was absolute perfection! They both were different since they had "abilities" and they naturally melded so well together. They helped one another learn new things about their abilities and they just were too damn cute! I totally hope they get married down the line.
Cambrian seemed to be a quiet kid at first, but once his secret was revealed I was able to understand him better. He felt ashamed of who he was because of who he liked and because his father was downright rude, dismissive and abusive he wouldn't allow himself to truly live. I felt bad for him throughout the story, but he finally stood up for what he loved and gave it to his dad. I loved that ending!
Philomena, even though only fifteen, was a spitfire character! She was outspoken and had her own mind. She knew what she wanted out of her life and wasn't going to allow society to make her into anything but what she dreamed.
Lord Mayor Harlan Branch is seriously craziest man ever. All that he did just to stay in power was ridiculous. All that he did to his son was pure evil. He was the most aggravating character ever! I can't believe how far he took things, but I'm so happy with how things ended for him. He deserved and definitely by who gave it to him!
This was such a phenomenal read! I definitely hope to read more about Iris and Elliot soon because their world is just fascinating and they are stunning together.