Book Review | Gypsy Heat by Jillian Neal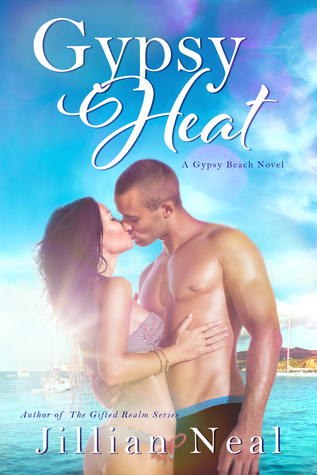 Title
:
Gypsy Heat
Author
:
Jillian Neal
Series
:
Gypsy Beach #3
Age
:
New Adult
Genres
:
Contemporary Romance
Publication Date
:
August 25th, 2015
Publisher
:
Realm Press
Source
: NetGalley
Purchase

: Amazon | B&N | iTunes | Kobo | Smashwords | All Romance
Synopsis
:
Nadya Montgomery was Gypsy Beach's own personal wild child. There was nothing she wouldn't do, especially when it came to Grady Havens. Until disaster struck and tore them apart. Desperate to protect Grady, she ran away from everything and everyone she'd ever known.

Fourteen years later, Nadya returns to the beach to try to rebuild some semblance of her life out of her ex-husband's shadow, but that means returning to her past and seeing Grady Havens again.

Now a charter boat Captain constantly trying to put his past behind him, Grady doesn't know what to make of Nadya's return. All he knows is she was always meant to be his, and he intends to make his claim. He wants her back in his life and most certainly back in his bed.

When his entire family is threatened, he's caught between rekindling his relationship with Nadya and protecting what belongs to him.

Together they try to rebuild what always should have been, but their pasts are determined to keep them ensnared. As passions ignite between them, they realize that even Grady may not be able to keep her safe this time.
My Rating
:
Quote(s) I Like
:
"" -
My Thoughts
:
This is the definition of a perfect summer read. I loved how Grady and Nadya overcame their past and never let their love for one another die. They both put the effort in to make their second chance meaningful and they succeeded with much work.
Nadya ran away from Gypsy Beach fourteen years ago and married Peter, an abusive, controlling man. She got tired of being his punching bag and finally left him. She has returned to Gypsy Beach and tries to avoid the one man she's always loved, Grady. In the midst of avoiding him she is being stalked by her ex-husband unknowingly and runs right back into the arms of Grady.
Grady has only ever loved and wanted one woman in his life and that was Nadya. Now that she has returned he tries to give her time to come to him, but can't seem to wait too long. When the chance arrives they draw together and pick up where things left off.
The romance between Nadya and Grady is absolutely perfect. When they were younger they dealt with a pregnancy and miscarriage which scared Nadya for life. Even Grady felt a bit of pain towards it, but it didn't stop them from taking the second chance they were given to make things right. Their love was undeniable. Nadya had no problems admitting her feelings, she was only scared she would continue to lose herself. Grady never backed down from being there for her. They grew together and made up for the fourteen years they were apart.
I definitely enjoyed their story and enjoyed the writing.