Book Review | Shadow Kiss by Richelle Mead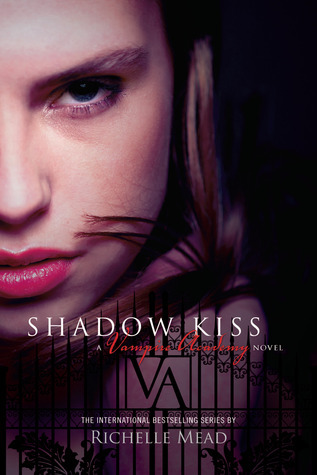 Title
:
Shadow Kiss
Author
:
Richelle Mead
Series
:
Vampire Academy #3
Age
:
Young Adult
Genres
:
Paranormal, Urban Fantasy
Publication Date
:
November 13th, 2008
Publisher
:
Razorbill
Source
: e-Book
Purchase

: Amazon | B&N | Kobo | iBooks
Synopsis
:
WHAT IF FOLLOWING HER HEART MEANS ROSE COULD LOSE HER BEST FRIEND FOREVER?

Lissa Dragomir is a Moroi princess: a mortal vampire with a rare gift for harnessing the earth's magic. She must be protected at all times from Strigoi; the fiercest vampires - the ones who never die. The powerful blend of human and vampire blood that flows through Rose Hathaway, Lissa's best friend, makes her a Dhampir. Rose is dedicated to a dangerous life of protecting Lissa from the Strigoi, who are hell-bent on making Lissa one of them.

Rose knows it is forbidden to love another guardian. Her best friend, Lissa - the last Dragomir princess - must always come first. Unfortunately, when it comes to gorgeous Dimitri Belikov, some rules are meant to be broken...

Then a strange darkness begins to grow in Rose's mind, and ghostly shadows warn of a terrible evil drawing nearer to the Academy's iron gates. The immortal undead are closing in, and they want vengeance for the lives Rose has stolen. In a heart-stopping battle to rival her worst nightmares, Rose will have to choose between life, love, and the two people who matter most... but will her choice mean that only one can survive?
My Rating
:
My Thoughts
I thoroughly enjoyed this book, just wish the action was a bit more detailed. Richelle Mead is a phenomenal writer. I love the world she created and how much more of the Strigoi she added into this story.
Rose Hathaway is still her kick-ass self. Ready to fight Strigoi and protect all Moroi including her bestfriend Lissa. She still has strong feelings for Dimitri, but begins to think about possibilities with Adrian. I loved her spunk and witty comments through out the story. I admired her courage even though she was scared. She took the true meaning of being shadow-kissed pretty well compared to anyone else. I felt bad to learn that she could be doomed mentally in order to help Lissa out.
Christian and Lissa are freaking adorable, but I disliked how the Queen Tatiana is trying to pair Lissa with Adrian for social status, however it doesn't surprise me. I enjoyed watching Christian fight Strigoi. His fire magic is on point! Lissa is a bit self-centered. That ending seriously pissed me off and made me want to slap her. The fact that she was angry because Rose didn't tell her about her feelings with Dimitri and for leaving was insane. She should have tried to support her. Lissa definitely was just self-centered towards the end for me.
Adrian is a freaking hot!!!! I need more of him. He is seriously sexy, witty, but an alcoholic for sure. I understand that he is like Lissa and uses alcohol to cope, but I think he needs to put those bottles away. I like how he flirted with Rose and tried to get her attention without compulsion -- it showed his true "love" for her.
The whole Dimitri thing with the Strigoi -- it freaking sucks. Part of me agrees with Rose's decision and part of me doesn't. I just hope the next book keeps the excitement going.