Book Review | Trial by Fire by Josephine Angelini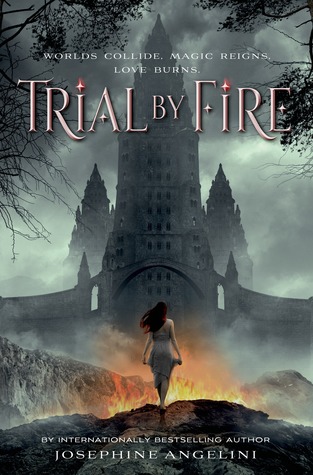 Title
:
Trial by Fire
Author
:
Josephine Angelini
Series
:
The Worldwalker Trilogy #1
Age
:
Young Adult
Genres
:
Fantasy, Paranormal
Publication Date
:
September 2nd 2014
Publisher
:
Feiwel & Friends
Source
: Ebook
Purchase

: Amazon | B&N | iTunes
Synopsis
:
This world is trying to kill Lily Proctor. Her life-threatening allergies keep her from enjoying experiences that others in her hometown of Salem take for granted, which is why she is determined to enjoy her first high school party with her best friend and longtime crush, Tristan. But after a humiliating incident in front of half her graduating class, Lily wishes she could just disappear.

Suddenly, Lily is in a different Salem—one overrun with horrifying creatures and ruled by powerful women called Crucibles. Strongest and cruelest of them all is Lillian . . . Lily's other self in this alternate universe.

What makes Lily weak at home is what makes her extraordinary in New Salem. In this confusing world, Lily is torn between responsibilities she can't hope to shoulder alone and a love she never expected.
My Rating
:
My Thoughts
:
This was an enjoyable read. I liked the storyline and the potential this story has. I'm excited to see where Josephine Angelini takes this.
Lily is a very strong minded character. In her world she is weak, dependent, nervewrecking and incapable of simple task. In the new world she is powerful. It's amazing how all her weaknesses made her strong. I loved how she stood by what she believed in and never let anyone sway her choices. Lily was a true fighter in every sense.
Lillian, the evil version of Lily was wicked but had a right to be in a sense. I feel bad that she allowed her fear to change her heart. In the midst of wanting to save people she destroyed them and hardened her heart.
Rowan was such a sweet broken hearted guy. His interaction with and growth towards Lily was very interesting. I enjoyed watching him fight his feelings for Lily because she looked like Lillian. It amazed me how long he was able to fight the love he had for her. I love his honesty and determination.
Tristan in present day Salem was a freaking jerk. However, Tristan in old Salem was perfect. He was caring, loyal and friendly from day one. He was selfish, but never fully let his selfishness over take his loyalties to Lily o lr his friends.
Alaric and his hidden agenda to use Lily was insane. Giedon acted liked a punk the whole time.
That ending was phenomenal. I love how Lily stood against Lillian and how Lillian gave up to save her other self. Even the thoughtless act from Rowan.
I'm excited for the next book to see how things play out.