Book Review | Origin by Jennifer L. Armentrout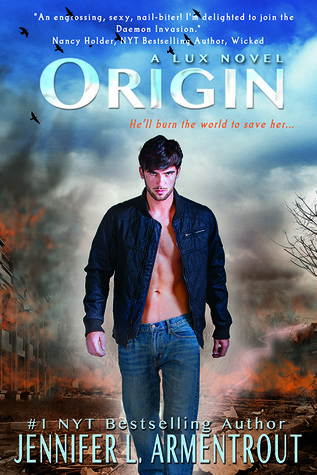 Title
:
Origin
Author
:
Jennifer L. Armentrout
Series
:
Lux #4
Age
:
Young Adult
Genres
:
Sci-Fi, Paranormal Romance
Publication Date
:
August 27th, 2013
Publisher
:
Entangled Publishing
Source
: Ebook
Purchase

:
Synopsis
:
Daemon will do anything to get Katy back.



After the successful but disastrous raid on Mount Weather, he's facing the impossible. Katy is gone. Taken. Everything becomes about finding her. Taking out anyone who stands in his way? Done. Burning down the whole world to save her? Gladly. Exposing his alien race to the world? With pleasure.



All Katy can do is survive.



Surrounded by enemies, the only way she can come out of this is to adapt. After all, there are sides of Daedalus that don't seem entirely crazy, but the group's goals are frightening and the truths they speak even more disturbing. Who are the real bad guys? Daedalus? Mankind? Or the Luxen?
My Rating
:
My Thoughts
:
Soooo much has happened!
First off, I'm so happy Daemon turned himself in to get Katy out. That was a brave, selfish, loving and stupid move. I loved that Nacy and Dadalus let them spend time together, but what they had to go through was insanely crazy. I wanted to cry, vomit and die for Katy. I'm glad they escaped.
I loved Archer! I can't believe he's Origin. That is freaking cool. Speaking of Origin, those kids are badass!!!!! LH-11 aka Prometheus is a freaking joke. A cure for diseases, but mutated humans -- the DOD is wreckless. I felt bad for Paris, Andrew and Ash the way they died. Unbelievable. I respect Ash for saving Beth's life. Matthew betraying them all was heartless, I'm glad he's gone.
As far as Katy and Daemon -- I'm happy they got married. Beth being pregnant didn't surprise me. I hope Dee and Archer get together. The whole ending when they exposed themselves was funny and crazy, but that just made it an open invitation to the Luxen to come to earth. So NOT good.
Definitely reading Opposition in the next hour or so.