Book Review | The One by Kiera Cass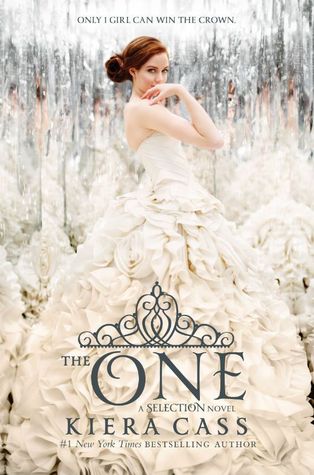 Title
:
The One
Author
:
Kiera Cass
Series
:
The Selection #3
Age
:
Young Adult
Genres
:
Dystopian
Publication Date
:
May 6th 2014
Publisher
:
HarperTeen
Source
: Ebook
Purchase

:
Synopsis
:
The Selection changed America Singer's life in ways she never could have imagined. Since she entered the competition to become the next princess of Illéa, America has struggled with her feelings for her first love, Aspen--and her growing attraction to Prince Maxon. Now she's made her choice . . . and she's prepared to fight for the future she wants.

Find out who America will choose in The One, the enchanting, beautifully romantic third book in the Selection series!
My Rating
:
My Thoughts
:
I can't even express the joy I feel! I need the next book NOW!!!
This ending was absolutely perfect.
I am soooo happy Maxon and America are together, despite realizing it near death. Thier relationship has grown so much from day one that they were destined to be together.
Aspen and Lucy are freaking cute!!!! I am happy Aspen finally realized that he and America both needed true love.
Finding out that America's dad AND Kriss were Northern rebels was insane!!! It made a lot of sense in a way though. I definitely loved Celeste in this book because she opened up about her insecurities and then began to act nicer to the girls. I am saddened by the death of the queen, but not so much of the king.
This was action packed, drama filled, romantic, sweet, hilarioud and everything in between. I am happy for King Maxon and Queen America and definitely need to read The Heir as soon as possible!