Book Review | Invaded by Melissa Landers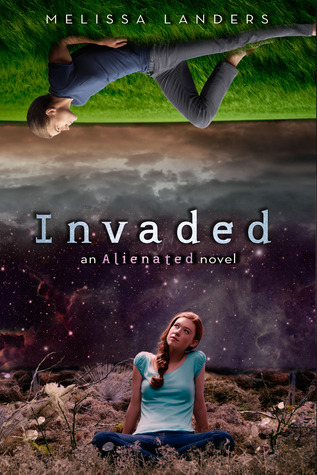 Title
:
Invaded
Author
:
Melissa Landers
Series
:
Alienated #2
Age
:
Young Adult
Genres
:
Sci-Fi Romance
Publication Date
:
February 3rd 2015
Publisher
:
Disney-Hyperion
Source
: eBook
Purchase

: Amazon | B&N | iBooks | Kobo
Synopsis
:
The romantic sequel to Alienated takes long-distance relationships to a new level as Cara and Aelyx long for each other from opposite ends of the universe...until a threat to both their worlds reunites them.

Cara always knew life on planet L'eihr would be an adjustment. With Aelyx, her L'eihr boyfriend, back on Earth, working to mend the broken alliance between their two planets, Cara is left to fend for herself at a new school, surrounded by hostile alien clones. Even the weird dorm pet hates her.

Things look up when Cara is appointed as human representative to a panel preparing for a human colony on L'eihr. A society melding their two cultures is a place where Cara and Aelyx could one day make a life together. But with L'eihr leaders balking at granting even the most basic freedoms, Cara begins to wonder if she could ever be happy on this planet, even with Aelyx by her side.

Meanwhile, on Earth, Aelyx, finds himself thrown into a full-scale PR campaign to improve human-L'eihr relations. Humans don't know that their very survival depends on this alliance: only Aelyx's people have the technology to fix the deadly contamination in the global water supply that human governments are hiding. Yet despite their upper hand, the leaders of his world suddenly seem desperate to get humans on their side, and hardly bat an eye at extremists' multiple attempts on Aelyx's life.

The Way clearly needs humans' help . . . but with what? And what will they ask for in return?
My Rating
:
Quotes I Like
"
Hurry. Before it burns you. I don't want anything making you hot unless it me.
" -
Cara
"
I'm fine, really. And if anything goes wrong the transport medic can restart my pulse.
" - Aelyx
"No way, I'm not going to the infirmary and telling them I sexed you to death." - Cara
My Thoughts
Melissa Landers is an amazing writer. She has done an awesome job creating this story. The worlds she built and how she infused them and then bringing in a a third race -- it's phenomenal.
Cara is a bit more bolder and daring in this sequel and I enjoyed it. She's still anti-violence, but she works up some amazing schemes. She dealt with being away from home more boldly than anyone else would have. She never gives up no matter what happens to her, she continued to fight. Her alliance to The Way and how the L'eihrs live was impeccable. Once she became a citizen she treated it like her home and that is beyond noble of her. I love Cara!
Aelyx is still a hunk! He is loving, caring and an awesome friend. I loved how he tried to make everything work between him and Cara. How he showed his love, how he taught her things and still made her blush even though they were planets away. Learning the truth about who wanted him dead made him feel a bit okay with staying on Earth if need be. Just like Cara, he was determined to make their relationship work at all costs.
Jaxen was always a jerk to me, but finding out that he was a different alien was insane. The things he did was always intriguing and different, but learning what his "plan" was and for who just made the story even more interesting. My only thing is why did he have it out for Aelyx exactly?
Syrine was a pretty good friend. Her ability to apologize sucked majorly, but when she did it made things peaceful. David was a scheming dog and as much as I liked him, I couldn't believe who found him and what he did. Nonetheless, he always played the role of a guard excellent -- even to his death. As for the romance between Syrine and him -- I thought it was absolutely adorable in every way!
Overall, I can't wait to see what happens next for Cara and Aelyx and which humans will come to the colony. Also can't wait to find out more on Jaxen and his kind.