Book Review | Heir of Fire by Sarah J. Maas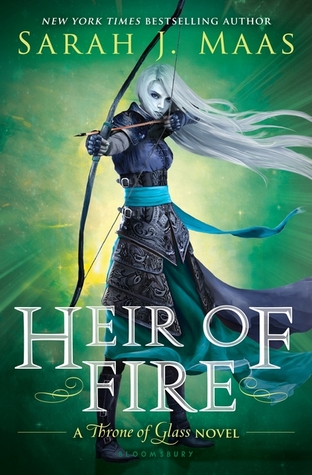 Title
:
Heir of Fire
Author
:
Sarah J. Maas
Series
:
Throne of Glass #3
Age
:
Young Adult
Genres
:
High Fantasy
Publication Date
:
September 2nd 2014
Publisher
:
Bloomsbury
Source
: Ebook
Purchase

: Amazon | B&N | iTunes
Synopsis
:
Celaena has survived deadly contests and shattering heartbreak—but at an unspeakable cost. Now, she must travel to a new land to confront her darkest truth . . . a truth about her heritage that could change her life—and her future—forever. Meanwhile, brutal and monstrous forces are gathering on the horizon, intent on enslaving her world. Will Celaena find the strength to not only fight her inner demons, but to take on the evil that is about to be unleashed?

The bestselling series that has captured readers all over the world reaches new heights in this sequel to the New York Times best-selling Crown of Midnight. Packed with heart-pounding action, fierce new characters, and swoon-worthy romance, this third book will enthrall readers from start to finish.
My Rating
:
My Thoughts
A moment of silence...
*.5 seconds*
This book started off boring for me, but OMG Sarah J. Maas is freaking brilliant in every way! I freaking loved this book more than the first two books.
Celaena is always kickass! I loved how this novel gave background information on her childhood. I feel like this book explored a more vulnerable side of her and we got to see her at her lowest point, but then pull herself out of it. I loved how she learned to shift and control her fire magic. I love how she accepted her truth, her fears and both of lives. I love how she combined Aelin, the Queen and Celaena, the assassin.
Rowan was totally awesome! I love his tough act, but the softness of his heart. I understand his heartbreak and being a Fae must make it harder. I enjoyed the relationship with Celaena and him. They are going to make an awesome team.
Aedion was a true loyal cousin to Celaena. I did think he took his loyalty too far trying to be the king to his cousin. His love just seems a bit over the top for me. I hope to see an Aelin and Aedion reunion.
Chaol -- one word...a bitch! I didn't like how he couldn't decide on what to do with supporting Celaena. Especially after all that went on in book 2. He seriously lost about 85% of my respect. I wish he would have just chosen to back up Celaena from the start. He definitely doesn't deserve Celaena or Dorian as friends. His heart was in the right place, but he let his position and mind ruin the best things in his life.
Dorian --- TEAM DORIAN -- he freaking rocks. I loved how he told Chaol off. I'm glad he did with such power, definitely means he still got love for Celaena. I love how he stood up to his dad this book. He is definitely becoming his true self. That little romance he had with Sorscha was cute and all, but I laughed so hard when his dad killed her. I'm ready for some Celaena and Dorian reunion and action!
Manon Blackbeak was interesting. I hated her character when I read her first chapter, but as the story went on I learned to enjoy her character. She grew up to be cold hearted. Her grandmother is a douchebag. I love how even though she had no emotions she allowed Abraxos to sort of make her more humane.
The King -- him, the Wrydkeys, his demonic buddies and his minions -- are dicks. Enough said.
Overall --- I'm STOKED for Queen of Shadows and I'm ready for some magic, fire daggers and blood to be spilled!