Book Review | Redemption by Randi Cooley Wilson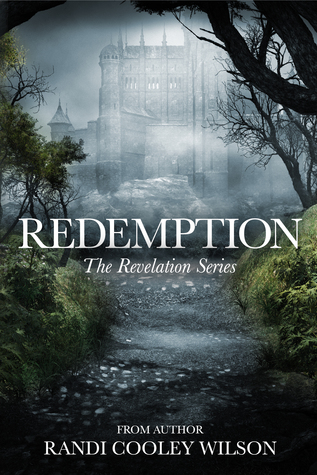 Title
:
Redemption
Author
:
Randi Cooley Wilson
Series
:
The Revelation Series, #3
Age
:
Young Adult, New Adult
Genres
:
Paranormal Romance
Publication Date
:
December 15th 2014
Source
: E-Book
Purchase

: Amazon
Synopsis
:
A LOVE RETURNS.
A LOYALTY IS BROKEN.
AND WAR BEGINS.

For Eve Collins, darkness has descended after her love vanished into the night sky. A new protector has been appointed, one who challenges everything she's believed to be true.

In this third installment of The Revelation Series, Eve will become aware of dangers and worlds that exist only in her nightmares, and bloodline secrets that will trigger a centuries old war.

You can escape anything, except your destiny.

Readers captivated by Revelation and Restraint will become enthralled with Redemption.

*Mature Young Adult/New Adult Paranormal Romance*
My Rating
:
Excerpt
Strong arms wrap tightly around my waist and tug me back to a warm, muscular chest. Asher lifts his hand and moves my hair to one side, over my shoulder, so he can have access to my neck. I tilt my head to the right, making it easy for his lips to gently brush the sensitive skin under my left ear before leaving a trail of soft kisses.
"Someday, when this is all over, I promise you'll have the peace you're craving. It will be just me and you, siren," he vows quietly.
I sigh in contentment. "That's all I want, Ash."
"Then I'll move Heaven and earth to make sure you get it."
I turn to face him and push up on my tiptoes. Leaning in, I give him a slow, molten kiss. I push everything I feel for him into the gesture. I want to fill every space of his soul, the way he does mine.
It's like I'm trying to climb inside his heart and live there. I'm not sure how long we stay like this, in our own private, perfect moment, but I never want to leave.
Breathlessly, I pull away. My eyes find Asher's. "What is it you want the most?"
Asher's intense gaze holds mine, taking my breath away. "Redemption."
My Thoughts
This was absolutely an amazing book! I haven't read very many fantasy books like this, but OMG this makes me want to dive into more. Randi Cooley Wilson has created such a profound world with such amazing characters. I have been drawn to this world from the beginning.
This book had me emotional for all the right reasons. Eve is now trying to figure things out without Asher around, but she is totally sucking at it. She's constantly thrown into danger and must find ways to beat it. Eve is just a strong heroine. She keeps pushing even though she has her moments of giving up.
Asher and Gage are just two awesome guys for very different reasons. If I had to pick, I would go with Asher just because I loved him from the beginning. The romance is fabulous as well.
Overall, this was freaking fantastic and will definitely be a re-read for me in 2015!
About the Author
Randi was born and raised in Massachusetts where she attended Bridgewater State University and graduated with a degree in Communication Studies. After graduation she moved to California where she lived happily bathed in sunshine and warm weather for fifteen years.
Randi and her husband recently moved back to Massachusetts with their daughter where she was encouraged to begin writing again.
Revelation is her first novel and The Revelations Series is her first New Adult Paranormal Romance book series.
"I've had a love affair with books, writing and storytelling since childhood. It has been a dream of mine to introduce this world and these characters to you. I hope I've done them justice."
Randi loves to hear from readers, you can reach out to her via Twitter: R_CooleyWilson and/or Facebook: authorrandicooleywilson
Giveaway
$25 GC to B&N or Amazon (winners choice) and a digital copy (Nook or Kindle, winners choice) of: Revelation, Restraint and Redemption by Randi Cooley Wilson