Book Review | Owlet by Emma Michaels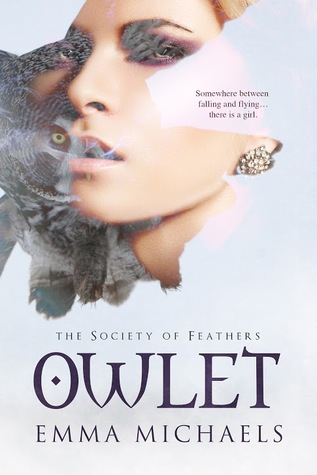 Title
:
Owlet
Author
:
Emma Michaels
Series
:
Society of Feathers #1
Age
:
Young Adult
Genres
:
Paranormal Romance
Publication Date
:
September 17th, 2014
Publisher
:
Crushing Hearts and Black Butterfly
Source
: E-Book
Purchase

: Amazon |
Synopsis
:
Somewhere between falling and flying… there is a girl.

Iris has a secret. She lost her memory eight years ago and never told a living soul. After an asthma attack one night she finds out that her dreams of a strange house on a snowy island may be a memory resurfacing but the more she learns about the past the more she realizes the life she has been living is a lie. As the façade her father has built starts to crumble around her she will have to decide which means more to her; the truth or her life.
My Rating
:
My Thoughts
Owlet is such an interesting book in so many ways. The premise alone is intriguing. I enjoyed the world, the characters and plot that Emma Michaels created. This was a fast paced novel that kept me hooked from page one to end.
We are thrown straight into Iris' prospective. Iris has a bad case of asthma and a deadly asthma attack her father decides to simply up and move to an island that has been in her dreams.
The shocking part is that the island is exactly how she's been dreaming it for years -- freaky! While on the island she meets Falcon, a mysterious young boy who she also dreamt about it. Iris feels like things are right and that she needs to figure out about her past, but what she finds is far from what she ever expected.
I absolutely loved Iris as a protagonist. She was bold, fierce and yet a bit reserved when needed.
The romance was pretty much awesome between her and Falcon. One of those I don't know you, but I know you scenarios. I absolutely enjoyed reading about them and seeing how things blossomed between them.
Everything about this book was different and unique. I don't think I could have found another story written this beautifully. I definitely plan to continue on and read the next book.