Book Review | City of Miracles by Robert Jackson Bennett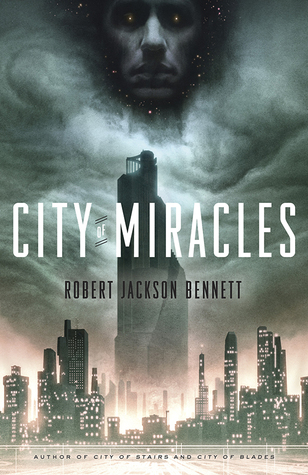 Title
:
City of Miracles
Author
:
Robert Jackson Bennett
Series
:
The Divine Cities #3
Age
:
Adult
Genres
:
Fantasy
Publication Date
:
May 2, 2017
Publisher
:
Broadway Books
Source
: Paperback provided for review.
Purchase

: Amazon | B&N | Kobo | Play Store | iBooks
Synopsis
:
Revenge. It's something Sigrud je Harkvaldsson is very, very good at. Maybe the only thing.

So when he learns that his oldest friend and ally, former Prime Minister Shara Komayd, has been assassinated, he knows exactly what to do and that no mortal force can stop him from meting out the suffering Shara's killers deserve.

Yet as Sigrud pursues his quarry with his customary terrifying efficiency, he begins to fear that this battle is an unwinnable one. Because discovering the truth behind Shara's death will require him to take up arms in a secret, decades-long war, face down an angry young god, and unravel the last mysteries of Bulikov, the city of miracles itself. And perhaps most daunting of all finally face the truth about his own cursed existence.
My Rating
:
My Thoughts
:
Having read the first two books in this fantasy companion trilogy (City of Stairs & City of Blades) I knew I had to get my hands on the third book. Robert Jackson Bennett has a way of truly captivating the reader and pulling them into the story. The characters are magnificent and the world building is amazing. I truly enjoyed reading this book.
This third book is centered around revenge. Sirgrud finds out that Shara has been killed and wants nothing more than to find and make the killer suffer. On his journey he encounters many people to help him and many against him.
There are epic battles fought, things revealed and lots of shocking moments to keep you on your toes.
The way the three novels came together to create this beautiful, heartwrenching, warm, fuzzy, bloodshed conclusion...just no words for the awesomeness that is Mr. Bennett. Just perfection.
Highly recommend if you're looking for a great fantasy trilogy to read.
PS. Though it can be read as a standalone -- I advise reading the first two novels to get the full richness of the trilogy.