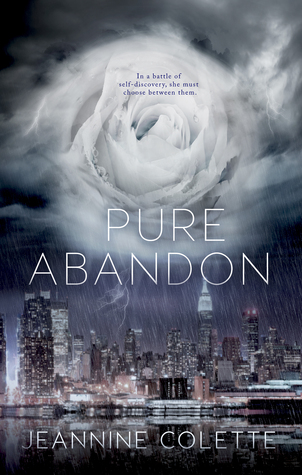 *I received a copy of this book for review.*
Title
:
Pure Abandon
Author
:
Jeannine Colette
Series
:
---
Age
:
Adult
Genres
:
Contemporary Romance
Publication Date
:
July 14th, 2015
Source
: Wordsmith Publicity
Purchase

: Amazon | B&N | Kobo | iBooks
Synopsis
:
KATHRYN GRAYSON has it all—a beautiful husband, new baby, and a life most women would dream of. But after putting her career on hold for her family, Kathryn sets out to reclaim the woman she once was.

When Kathryn meets her new boss, ALEXANDER ASHER, Manhattan playboy and heir to his family's fortune, their relationship is heated… and not in a good way. The two are at odds, playing a cat-and-mouse game that has Kathryn pouncing.

Kathryn seeks the comfort of her husband, GABRIEL MONROE, an up-and-coming attorney who seems to have less and less time for his wife as his career takes flight, leaving her dreaming about the days when their love story was a fairy tale.

After a heated argument, a box of Twinkies and a very elaborate display of white roses, Kathryn and Asher call a truce. She unravels a deeper side of him, and they develop a fierce connection that leaves Kathryn wondering what is appropriate… and what is not.

When Kathryn becomes suspicious of Gabriel's activities, she finds herself alone and far away from home with the charismatic Asher. After a night of drama, honesty, and pure eroticism, Kathryn's will to stay away from Asher is tempted like never before.

In a battle of self-discovery, Kathryn must choose between them. Both men are devastatingly broken by her actions—and she can only fix one of them. But when she makes her choice, will he even want her after all that's happened?
My Rating
:
Quote(s) I Like
:
"
If I learned one thing living with my mother, it was a girl needs her war paint before she goes into everyday combat.
" - Kat
"I like control. And more than that, I like people thinking they hold the power when I was the one holding the strings all along." - Asher
My Thoughts
:
Fantastic read! I enjoyed Jeannine's writing and her characters.
Kathyrn Grayson is a married mother of one. She is finally ready to work hard for what she wants. She has a hard time balancing her work and personal life and confides in too many people. I think the only one really there for her was her mother Gwen. I respect Kat depsite her mistake she made with Asher. She knew she wanted her family and was willing to make things work for it. She quit her job, told Gabe to do the same and they moved to FL from NY. Kat may have lost her way through the years of marriage and being a new mom, but she quickly found her way after one mistake could have torn her world apart. However, that one mistake revealed so much about her supposed "friend" Malory which made things harder, but easier to deal with. Kat is a wonder woman in her own way.
Alexander Asher is a bold, blunt man. He gets everything he wants and never takes no for an answer. He wanted Kat from the start and no matter if she was married, he was determined to have her. He fell for her and she turned him down. I enjoyed him so much because he always seemed to be in boss mode, but when he went into casual, friend mode he was such a joy. He wasn't your typical entitled man, but he definitely knew how to get what he wanted. I loved how Kat told him like it was at the end and walked away from him. I don't respect how he kept gunning for, but it made this such an interesting story.
Gabriel Monroe was a douche-bag husband, but he was very underdeveloped. I honestly thought he was cheating because he was distant sexually, taking runs with women and not giving his attention to his wife. He may be hot, but he showed no true emotions up until the end when he got those photos of Kat and Asher. He needed more work done.
Malory is a conniving bitch. I always thought that Heather was the crazy one, but Malory takes the gotdamn cake. She wielded her way into Kat's life, befriended her and all to destroy because she had feelings for Gabe AND was having sex with Asher. She is downright a fucked up friend. I cannot deal with her at all. She was a great asset to the story though because she really portrayed the best-friend role extremely well.
This was such a realistic story with a better ending then most stories would have created. I'm excited for Reckless Abandon.