Release Blitz | Redemption by Randi Cooley Wilson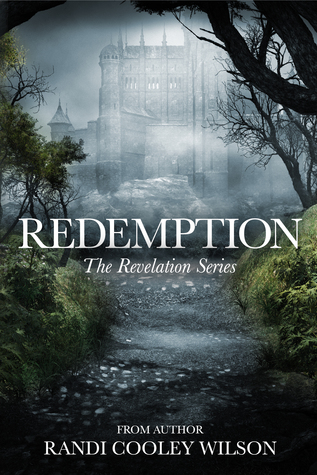 Title
:
Redemption
Author
:
Randi Cooley Wilson
Series
:
The Revelation Series #3
Age
:
New Adult
Genres
:
Paranormal
Publication Date
:
December 15th 2014
Purchase

: Amazon | B&N
Synopsis
:
A LOVE RETURNS.
A LOYALTY IS BROKEN.
AND WAR BEGINS.

For Eve Collins, darkness has descended after her love vanished into the night sky. A new protector has been appointed, one who challenges everything she's believed to be true.

In this third installment of The Revelation Series, Eve will become aware of dangers and worlds that exist only in her nightmares, and bloodline secrets that will trigger a centuries old war.

You can escape anything, except your destiny.

Readers captivated by Revelation and Restraint will become enthralled with Redemption.

*Mature Young Adult/New Adult Paranormal Romance*
Excerpt
When I was a little girl, Elizabeth would read me fairytales. They were stunning stories of love, courage and triumph. And in the end, the beautiful princess would always be saved by the handsome prince and live happily ever after.
In truth, fairytales are dark. They're about sacrifice, lost love, and worlds where pure evil exists only to torture innocent souls. The storyteller simply leaves out the suffering, anguish and loss that the prince and princess experience along the way in order to achieve a happily ever after.
My story is a dark fairytale. Filled with evil, loss, suffering and loneliness. There is no happy ending for me. Even in the happiest of fairytales, someone must die, be defeated, or suffer in order for the prince and princess to succeed and be allowed to love.
War has begun. Love can no longer be. It's time to make my sacrifice so that this dark fairytale can have its happy ending. Even if that means I no longer exist in the story.
The Series
Revelation
(The Revelation Series, #1)
Restraint
(The Revelation Series #2)
Goodreads:
http://bit.ly/RevelationGR
B&N:
http://bit.ly/RevelationNook
Amazon:
http://bit.ly/RevelationKindle
Author Interview
How did you come up with the idea for this story?
The Revelation Series was an idea that progressed over time. As a long-time lover of the paranormal romance genre, I was craving something different and distinctive. In 2008, I was home on maternity leave and starting writing, which is something I do frequently as a creative outlet. Before I even realized it, my one-off sentences, and character backgrounds morphed into a story. From there, I folded in my obsession with John Milton's Paradise Lost and my love for gothic architecture and really romanced the idea of the mythology behind my supernatural creatures.
Where do you find your inspiration?
Anywhere and everywhere. It's a vague answer, but it's completely true. For Redemption, (The Revelation Series, book #3), one of my chapters was inspired by my hatred for a particular cereal my six-year old loves (laughs).
Is there anything you find particularly challenging in your writing?
It changes depending on the day and what I'm writing. With The Revelation Series, I find the character of Gage Gallagher difficult to write because he's so deep and there are some many levels to him that at times, I get lost in all that is Gage Gallagher.
What are your current projects?
At the moment, I'm finishing up the last two installments of the series. After which, I will be releasing two stand-alone new adult contemporary romance novels.
Tell us about your first book. What would readers find different about the first one and your most recent published work?
This is an interesting question. I feel the more I write, the deeper my books get. Revelation, (The Revelation Series, book #1) was really about the mythology behind the supernatural creatures and the world building that surrounds the characters. Restraint, (The Revelation Series, book #2) was about the love between the main characters, Asher and Eve. Redemption, (The Revelation Series, book #3) takes you deeper into their world and also allows the secondary characters to shine, which I love.
Are there any new authors that have grasp your interest?
I'm so bad at this (laughs). I love new and indie authors and I have tons of books in my Kindle library. That said, since I've been focused on finishing this series, I've tended to put a lot of my reading on hold for a bit. So I can't offer any amazing insight on new authors at this time.
Can you share a little of your current work with us?
Of course, I'd be happy to. Here is an excerpt from Redemption (The Revelation Series, book #3) releasing 12/15/14:
Strong arms wrap tightly around my waist and tug me back to a warm, muscular chest. Asher lifts his hand and moves my hair to one side, over my shoulder, so he can have access to my neck. I tilt my head to the right, making it easy for his lips to gently brush the sensitive skin under my left ear before leaving a trail of soft kisses.
"Someday, when this is all over, I promise you'll have the peace you're craving. It will be just me and you, siren," he vows quietly.
I sigh in contentment. "That's all I want, Ash."
"Then I'll move Heaven and earth to make sure you get it."
I turn to face him and push up on my tiptoes. Leaning in, I give him a slow, molten kiss. I push everything I feel for him into the gesture. I want to fill every space of his soul, the way he does mine.
It's like I'm trying to climb inside his heart and live there. I'm not sure how long we stay like this, in our own private, perfect moment, but I never want to leave.
Breathlessly, I pull away. My eyes find Asher's. "What is it you want the most?"
Asher's intense gaze holds mine, taking my breath away. "Redemption."
Do you have anything specific that you want to say to your readers?
Thank you. It's always thank you. I'm so blessed to have had the opportunity to release this series and even more taken aback that people read it and love it. I'm just beyond grateful this community has embraced me as it has.
About the Author
Randi Cooley Wilson is the author of both new and young adult paranormal/fantasy and contemporary romances. Her debut novel Revelation is the first book in The Revelation Series, which includes the sequel Restraint. After living in Southern California, happily bathed in sunshine and warm weather for fifteen years, Randi recently moved back to her home state of Massachusetts with her husband and daughter.