Book Review | A Darker Past by Jus Accardo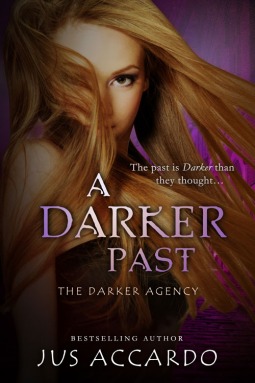 Title
:
A Darker Past
Author
:
Jus Accardo
Series
:
Darker Agency #2
Age
: Young Adult
Genres
:
Paranormal Romance
Publication Date
:
November 11th, 2014
Publisher
:
Entangled Teen
Page Numbers
:
314
Format
:
E-Book
Source

: Courtesy of the publisher
Purchase

: Amazon | B&N | Kobo
Synopsis
:
The past is Darker than they thought...
Between helping her mother with the Darker Agency and laying the smack down on monster baddies, Jessie Darker puts the "normal" in paranormal. But lately, things have gotten a little crazy...even for a smart-assed half-demon teenage girl.
For starters, Jessie's been contracted into fifty-five years of annoying servitude. To a demon. Then there's Lukas Scott, her sexy new boyfriend. Once the former incarnation of Wrath, he's been going through some...uh, changes. Like residual anger. And trading chaste hangouts for lusty make-out sessions.
But it's when Lukas and Jessie accidentally release a Very Nasty Demon that things get really bad, setting into motion a chain of death and mayhem that threatens both Earth and the Shadow Realm. Jessie has exactly four days to fix it...before all of Hell breaks loose.
My Rating
:
My Thoughts
:
A great sequel to Darker Days. This was a very balanced novel with such thrill and romance that I couldn't put it down. Jus Accardo is fabulous! This was a fast paced book, which I loved! It kept me on the edge of my seat needing to know what happens next. I enjoyed the action, twists and turns that occurred and the build up for the next book.
Jessie, the protagonist, is such a sassy character. She keeps me laughing and waiting for her next line to come. With her humor she brings smarts which makes her a kickass female lead character. I am such a huge fan of Jessie because she's just so realistic for me with her attitude, impulsive ways and all the emotions she goes through -- like any girl. The new boyfriend, Lukas is such a sweet heart. Even as he began to deal with the changes of being a demon he pulled through as the same loving guy that's perfect for any girl. The romance was perfection. It was developed so much better than in book one because there are some obstacles that keeps Jessie and Lukas on their toes like any real couple.
That cliffhanger…I seriously need the next book like now!
Highly recommend this beauty. It's an awesome YA Paranormal Romance novel.