A virus that will wipe out half of humanity. A teen with the help of her future self set on killing the culprit. Check out my review and thoughts of
Malice
. Check out other
reviewers
!
Title
:
Malice
Author
:
Pintip Dunn
Age
:
Young Adult
Genres
:
Science Fiction
Publication Date
:
February 4th 2020
Publisher
:
Entangled Publishing
Source
: eARC
Purchase

: Hardcover | Kindle | Audible | B&N | Kobo | Play Store | iBooks
Synopsis
:
What I know: a boy in my school will one day wipe out two-thirds of the population with a virus.

What I don't know: who he is.

In a race against the clock, I not only have to figure out his identity, but I'll have to outwit a voice from the future telling me to kill him. Because I'm starting to realize no one is telling the truth. But how can I play chess with someone who already knows the outcome of my every move? Someone so filled with malice they've lost all hope in humanity? Well, I'll just have to find a way—because now they've drawn a target on the only boy I've ever loved...
My Rating
:
My Thoughts
:
Going with a 3.75 star rating for this book. This was a pretty good sci-fi novel with futuristic aspects blended with a slight mystery. The writing was great, the characters were cool, I just didn't connect with them 100% so that's why I couldn't give it a full 4 star rating.
Alice was such a confusing girl. She seemed to be easily swayed by her future self into doing things that were morally wrong. She did seem to have a good head on her shoulder, but with so much going on in the future and not really understanding or truly living in the present she goes haywire.
Bandit is a boy that's obnoxious, but also sweet. As much as I found his remarks cringe worthy, I ended up truly enjoying him and how sweet he was with Alice. The way he interacts with Alice was funny.
Archie is the younger brother of Alice who is scared deeply by the disappearance of their mother. He is the epitome of a child going semi-serial killer. He stayed true to his nature from beginning to end.
Charlie was aggravating and evil. I cannot stand him! Other, older Alice was frustrating! Overall, this was a good read.
About the Author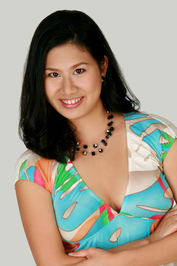 Her novel FORGET TOMORROW won the 2016 RWA RITA® for Best First Book, and SEIZE TODAY won the 2018 RITA for Best Young Adult Romance. Her books have been translated into four languages, and they have been nominated for the following awards: the Grand Prix del'Imaginaire; the Japanese Sakura Medal; the MASL Truman Award; the TomeSociety It list; and the Romantic Times Reviewers' Choice Award.
Her other titles include REMEMBER YESTERDAY, THE DARKEST LIE, GIRL ON THE VERGE, STAR-CROSSED, and MALICE.
She lives with her husband and children in Maryland.
Giveaway
Prize: Win (1) of (2) copies of MALICE by Pintip Dunn (US Only)
Starts: 4th February 2020
Ends: 18th February 2020
Thank you to Flying Fantastic Book Club for having me on board this tour!